AGREEMENT BETWEEN THE FLORIAN REPUBLIC AND THE BOVIC EMPIRE OF THE NATOPIAN NATION.
1. The Florian Republic (hereinafter FR) cedes to the Bovic Empire of the Natopian Nation (hereinafter Natopia) the area adjacent to Blyth. Natopia shall in turn unclaim some of its northern territory of Saint Andre. See affixed map for true borders.
2. A state of permanent peace shall prevail between FR and Natopia. FR shall not support any violence against Natopia.
3. FR shall encourage the USSO to cease all fighting against SANE forces.
4. Natopia shall not object to any future expansion by FR north of Saint Andre.
5. Immediately upon signing, the map shall be sent to the MCS for change.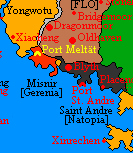 Done 20 December 2017


Signed for the Bovic Empire of the Natopian Nation:
The Timeless Shadow
Signed for the Florian Republic: